Florida, United States (US)

Florida is a beautiful part of United States. It is a pearl of the North America, where merged together history and modernity, culture and science. There are many important and interesting cities in Florida. The most important, modern and largest cities of Florida with airports are:
View all airports of Florida (1088 airports).
These cities really unusual. You can always find something there that you are looking for. This is the best place for holiday or business trip.
IATA and ICAO codes of airports in Florida
Many airports of Florida have international codes of IATA and ICAO. An IATA airport code is a three-letter code designating many airports around the world (including United States), defined by the International Air Transport Association (IATA). The characters prominently displayed on baggage tags attached at airport check-in desks are an example of a way these codes are used.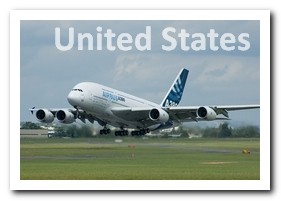 The ICAO airport code is a four-letter alphanumeric code designating each airport around the world. These codes are defined by the International Civil Aviation Organization. The ICAO codes are used by air traffic control and airline operations such as flight planning. They are not the same as the IATA codes encountered by the general public, which are used for airline timetables, reservations, and baggage handling.
We have the world's largest database of codes, ICAO, IATA and the geographical coordinates of most airports in the world. Our database has more 40000 records about world airports, including ICAO, IATA codes, geographical coordinates (location) of all airports in Florida.
Car Hire in airports of Florida
In airports of Florida you can easily rent a car, even if you came from another country. You will need an international driving license and some money for it. Having an international driving license is a main rule of all car hire agency in all airports of Florida. Price of rent cars in Florida are not very expensive, therefore all cars are insured, so that can safely take the car in Florida without worrying about money.
If you do not want to travel by car as a driver or you do not like driving a rented car, you can order a taxi in the airport. It is not very expensive. Affable and friendly taxi drivers in Florida are always prompt the shortest path to where you want.
Across Florida, you will find many interesting places which are interesting both from a cultural and educational side. In Florida you can travel by car you can rent one at the airport. However, air communications in Florida are the most advanced of United States. You can easily flying from one city to another by means of domestic airlines of Florida. Private airlines will always help you with choosing the route. The price for tickets for domestic flights in Florida is not high, and any person can flying with Florida airlines.
Air walks on a plane in airports of Florida
An original and unusual service to offer owners of private planes in Florida. It is a rental aircraft. For a small fee you can rent a plane for air walks. Great weather, beautiful sunset, lovely views of Florida - you can see it if you would take to hire a plane in airports of Florida. All planes undergo maintenance, so rental aircraft in Florida is safely. You need a license to fly, if you want to control the plane. But I do not have a license, and I rent a plane with a pilot. Pilot is usually the owner of the plane, so that air travel becomes more peaceful and secure for you.
Parachute jumps in Florida
Also in Florida you can try to jump with a parachute. In Florida skydive can anyone, even who has never jumped. This is a very funny rest, and you will never regret the time spent. There are restrictions for parachute jumps in Florida. They relate to health. If you are not ready to jump or feeling quite bad, please do not jump.
Hotels near airports of Florida
Many airports in Florida have a hotel. In them you can stay for a few days. Prices in hotels in Florida are always different. There are hotels expensive class (some of them is really high level hotel) for businessmen and people who love luxury. There are cheap hotels in Florida, which are sometimes better than expensive, because there are quieter, and very comfortable. Hotels in Florida is the best place for rest.
If you come with children need not worry - in airports of Florida have a children's room, where your children rest and have fun when you can finish your business.
Florida is an interesting place. Probably it is my favorite place to relax. Whenever I fly into airports of Florida I marvel at the beauty of the place and the friendliness of local residents.